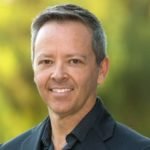 Jeff Dillon
Director, Web & Mobile Services
California State University Sacramento
From desktop to smart phones, Jeff has guided Sacramento State's Web & Mobile Services team since 2008 with the mission of optimizing the University's digital experience. His team supports campus systems including the campus web presence, Sac State Mobile, My Sac State portal, Blackboard, and Web Content Management which has grown to 700+ campus users since first launching in 2010. Jeff's current passion is to lead the push to bring learning into the hands of students through, accessible, mobile-friendly websites and the free Sac State Mobile app.
From 2000-2008, Jeff served as the first webmaster for Northern Arizona University. Before his career in Higher Education, he founded FoodCount.com an online personal nutrition service. He also co-founded Canyon WebWorks, a nationally-recognized web development company with a strong tourism foothold in the Southwest. Clients included National Geographic Theatre, IMAX, and Grand Canyon National Park and Teva Sport Sandals.
Jeff holds a BS in Communication/Marketing and a Master of Administration, both from Northern Arizona University.